Write Source 2000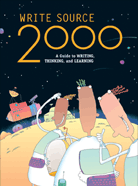 Writing Topics
Here's what a new student needs to know about my school.
Why weekends should be longer
A narrow escape from trouble
What I've broken or lost that belongs to someone else
My first friend
A visit to a relative's house
My chores
A dedicated teacher or coach
When I was lost
My idea of a fun weekend
A school field trip
I've done something no one else has done.
I'm principal for the day. Here's my schedule of events.
A typical lunch hour
If only I would have listened!
How could TV be better?
My favorite neighbor
My bedroom from top to bottom
A memorable bus ride
My best class ever
My first concert
Finally, a good assembly
If I could be someone else, I would be . . .
The most fun I've had recently
This is an all-new chapter for the Write Source 2000 handbook. It is available here as a PDF file, which means you need to use the Adobe Reader to view it.
The "Multimedia Reports" chapter of this book shows how to prepare a multimedia presentation and an interactive report. To play these files on your computer, you will need the HyperStudio program.
For your convenience, we have also provided a link to a Web slide-show version of each presentation or report (without sound or slide transitions).
Multimedia Presentation
Download the "Lord Aaron's Castle" multimedia presentation.
Launch the Web slide-show version.
Interactive Report
Download the "Lord Aaron's Castle" interactive report.
Launch the Web slide-show version.