Writers Express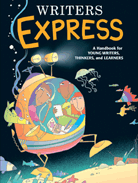 Writing Topics
Staying at a friend's house
A special secret place
When I was upside down
What if we suddenly had to move?
My most embarrassing moment
Talk about being scared!
Do I want to be famous?
Creepy, crawly things
What if I were the teacher?
I'll never eat another . . .
My biggest surprise
This school really needs . . .
The first day of school is the worst/best.
A pet sitter needs special instructions to care for my pet.
Doing homework
A song that means a lot to me
My best day
A day in the life of my pet
I don't understand why . . .
Dirt bikes and in-line skates
A visit to a friend's school
What is important to me?
A terrible storm
Me and the outdoors
My first school memories